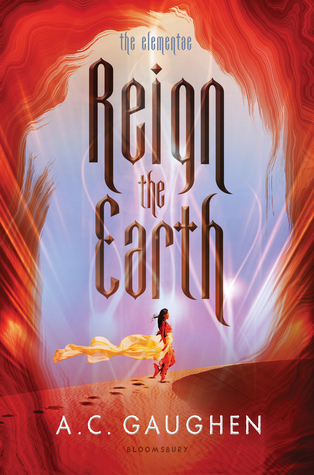 Reign the Earth
Author: A.C. Gaughen
Series: The Elementae #1
Expected publication: January 30, 2018
Pages: 448
Publisher: Bloomsbury
Genre: Fantasy, Young Adult
**Thank you to the publisher and Netgalley for this ARC!!**
In the midst of an ongoing war that has taken many of her people and a secret resistence against the King, Shalia, a young woman born and raised in the desert, is ready to give up her life as she knows it to marry Calix, the King of the Bonelands, and ensure the safety of her people.
As Queen, Shalia believes she can do good for other, but she quckly learns that the king, her husband, is driven by a deep rooted hatred of a mystical and powerful people, the Elemantae, who he has all but wiped out.
When Shalia discovers her own immense powers, she must perform a delicate balancing act between her desire to protect her people and her need to protect herself, and her secret, from her husband's seething rage.
—
*This review contains very mild spoilers*
This book was incredibly intense from start to finish. The things that Shalia goes through are quite brutal and readers should be aware that there is physical, sexual, and emotional violence/abuse throughout.
I am struggling a little with this review, because while I really enjoyed the story, I found a few things problematic.  Its characters, especially Shalia's brother Kairos, are interesting and complex, the story is dark and compelling, and the world building is well done, with unique landscapes and interesting architectures! I also loved the magic in this book and was very excited to meet a character so connected to the Earth. However, I felt there were some problematic moments that jolted me out of my enjoyment a bit.
This is a story of abuse and survival and I think it's an important, if difficult, one to tell. Shalia's naivity, growth, and strength are all extremely compelling. And the paralells to her relationship with her magic is beautifully done.  However, I found the resolutions to Shalia's traumas sort of truncated, a bit too easy. More time spent with her struggling to get to the self-assured and fearless place she comes to occupy would deepen the emotional engagement for me and craft a more complex representation of the aftermath of abuse.
The idea of the villain at the beginning of the novel is wonderfully tense. Her husband's darkness is punctuated by moments of light that tease Shalia and the reader into thinking there is hope for him yet, or at least a chance of understanding why he is the way he is, but falls away quickly as he transforms into a bigger than life super villain through his  abuse of Shalia. I do appreciate that the book does not glorify abuse or find something to love in the abuser. Any sympathy or deisre to help him dissipates the moment his cruelty crosses the line.
Finally the "big reveal" at the novel's end left some holes in the logic of the story and the ethical code it attempts to develop that, while it was emotionally satisfying, fell short narratively. All that being said, I couldn't stop thinking about it after I finished and I am so looking forward to the next installment!
—